Vice President Meng Dawei Meets with the Delegation from Russian Amur National University
byLiu Xiaodong fromInternational Cooperation and Exchange Office
Translated by Pang Baokun; edited by Jiang Yufeng
Time: 2013-3-22 11:04:04; Click: 1,139
On the invitation of HUST, the delegation from Amur National University visited our school on March 21st, 2013, including vice president of international affairs, Mrs. Irina Borisovna Keidun, director of research and education center, Mr. Dmitry Vladimirovich Fomin, and director of science and technology center of international programs Mr. Yanenko Sergey Alexandrovich.
Vice president Prof. Meng Dawei met with the delegation. At first, Mr. Meng expressed his warm welcome to the delegation and introduced our history, faculty situation and achievements of talents training, scientific research and teaching, international exchange and cooperation, etc. President Meng also pointed out problems, in school running conditions, talent cultivation models and other aspects, which need to be solved urgently. Due to the opportunities provided by the medium and long-term development plan of the Education Ministry and Heilongjiang Province and the implementation of a series of reforms, he hoped to actively promote the talent cultivation, teacher training and the internationalization of education, and to further improve the school's running level.He expected the two universities to make substantial progress in teachers communication and students exchange from this visit.
On behalf of the president of Russian Amur National University, Mrs. Irina Borisovna Keidun conveyed her thanks to Prof. Meng for the warm reception and expressed sincere respect to HUST. She briefly introduced the history, discipline construction situation and achievements in international cooperation and exchange of her university. She said that her university is located on the Sino-Russian border, and because of this natural geographic advantage, they have closer ties with Chinese universities. According to the framework agreement signed by the two sides, Russian Amur National University has already sent 10 students to our university. Mrs. Irina Borisovna Keidun said that they will continue to send students to our school in the future, and hoped to broaden the cooperation between the two sides in students exchange and scientific research. And she also invited Prof. Meng to visit Russian Amur National University at a convenient time.
Vice-president Meng Dawei stressed at last that two universities have similarities in major setups, and we will take full advantage of geographic position to realize a future possibility of scientific research cooperation through close communication in personnel training and teacher training.
The meeting was also attended by the following leaders from different departments and schools: Dean ofElectrical and Electronic Engineering College, Prof.Li Zhonghua;Dean of Materials Science and Engineering College, Prof.Sun Fenglian;Dean ofMeasurement and Control Technology and Communication Engineering College, Prof.Yu Xiaoyang;Dean ofComputer Science and Technology College, Prof. Chen Deyun;Dean of Automation College, Prof.You Bo;Vice-Dean of Applied Science College, Prof. Wang Junming; Dean ofInternational Culture and Education College, Prof.Wu Xiuhua;Vice-Dean of Foreign Language College and Deputy Director of International Cooperation and Exchange Department, Prof. Liu liqun;Director of Russian Department of Foreign Language College, Prof.Chang Ying; theStaff fromInternational Cooperation and Exchange Department,Liu Xiaodong. (Photographer: Liu Chang)
Vice President Meng Dawei attended and addressed the conference
Vice President of International Affairs, Irina Borisovna Keidun delivered a speech
Director of Research and Education Center, Dmitry Vladimirovich Fomin gave a speech
Director of Science and Technology Center of International Programs,Yanenko Sergey gave a speech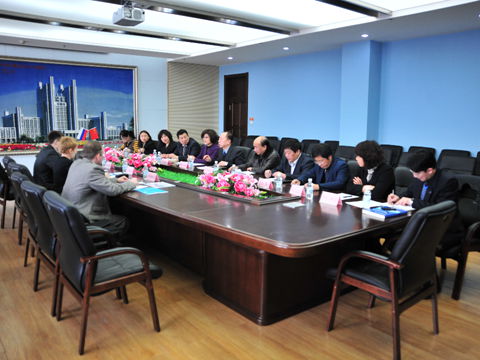 The conference
Photograph of two sides